I have been knitting.
Really.
Just not so fast that you could tell.
Today I was going to post all my knitting successes and brag a bit. But the reality is that I just can't. I will show you the current progress and one tiny FO, the first of 2009.
First, the stalled Amhra'n Gra'.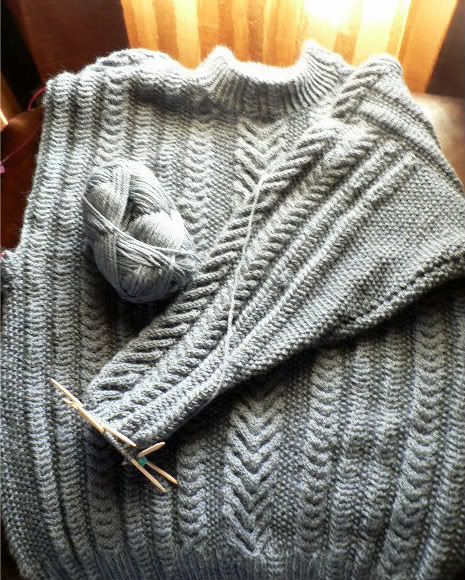 I had high hopes for this sweater as a Yule gift for Hijo Segundo. And then, one day, he comes in to find me perusing sweater patterns and states:
"I'm not really into sweaters Mom. You don't have to make one for me. I would rather have socks or a scarf."
"HUH?!" I said to myself.
And the sweater began to languish. It is still going to be finished though.
The photo is where I was the day that bit of information came my way.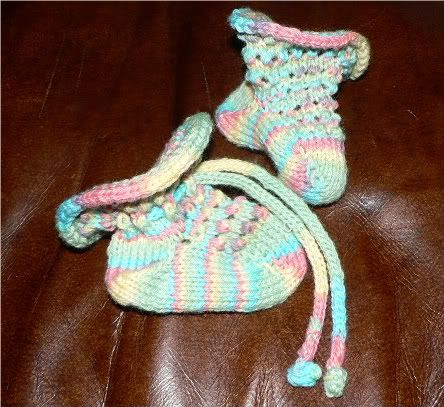 My small success came in the form of these newly designed little cuties. They are a new Emma's Daughter Design and will be in a series called
Twinkle Toes
, booties and socks for preemies and newborns. This is the first set and is currently under test and rewrite. They are so tiny that it takes only an hour or so to knit one! Fun stuff and small successes count. Right? With help from a marvelous group of women from Ravelry this pattern is getting finished so fast that my head is spinning. That group consists of the wonderful
Krafty Anne
, the amazing
Doodler
, the kind
Nanarector
, and last, but not least, the blogless yet amazing Nathalie, Sunniann and Miolulu.
The next little project that was so exciting for me to finish was for my dear friend Becca, who is still
Unpublished
by the way. I was getting ready to place them in an envelope and mail them to her when I thought to try them on for a picture. Oops...unless she has 2 right hands, this is just not going to work! Last time I saw her, she seemed to have both thumbs in the proper locations. I laughed, cussed, tried them on again to see if I was somehow mistaken with the positioning of the offending manual appendages only to discover that I was right. They were wrong. Now I have to make another one for the proper hand and probably another one for the proper hand again so I can have a pair too! Sorry Becca, they are going to take a while longer.
Knowing of my dismay and disappointment, the kindly Clinton mailman brought me a consolation prize though!
A while ago I ordered this gorgeous yarn in a kit. A Colinette Afghan kit.
A few years ago I made one for Hija Primera. Not the same pattern or colorway, but a Colinette kit. It was such fun to work and kept me warm while knitting. It was a Yule gift to her.
Since that time I have wanted one of my very own.
One day, while surfing around, looking for Wendy Peter Pan yarn, I stumbled into
Wool Needlework
. The Colinette brand, floating in the sidebar, caught my eye and I was a gonner. The kit is called Perugino and the colorway is Ginger Nut. It is perfect for my newly painted and decorated parlor! Can't wait to start it.
But you all know what I must do first. That is right, fix the mitten!